PAWS 4 Kisses & Hugs Honors LAFD Heroes, Pays Tribute to 9/11 and Celebrates Community Spirit an Annual Event
Woodland Hills, CA: The event was held Sunday, September 10, 2023, in San Fernando Valley, honoring LAFD in Calabasas, West Hills, Woodland Hills, Winnetka — Black Lucy Music, and Have Mercy's 8th Annual PAWS 4 Kisses & Hugs therapy dogs and volunteers paid tribute to the firefighters of LAFD Fire Stations 68, 104, 105, and 106, in memory of 9/11. Remembering our heroes on this solemn day, the PAWS Therapy Dogs and volunteers brought joy and comfort to the community.
The volunteers were warmly welcomed by each fire station. Showing appreciation for the work these heroes do, each fire station was presented with a beautiful gift basket and each firefighter an American Flag pendant. The fire stations were also bestowed with a mounted certificate, recognizing their unwavering commitment and service.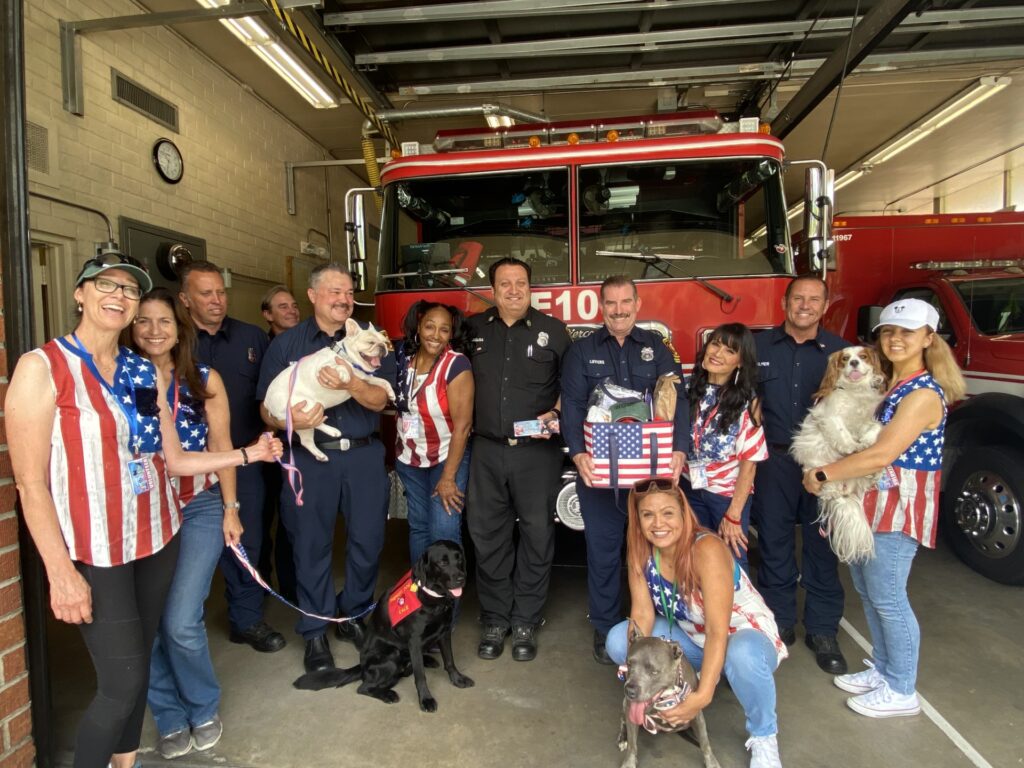 In memory of Prince Bailey, the beloved Paws mascot who served the community for 13 years, a special crystal Mascot Award was presented to LAFD by Bailey's mom and PAWS director/founder, Aydiee Vaughn Dunson. This significant gesture marked a poignant moment in the celebration and will be given to the LAFD every year moving forward.
PAWS Therapy Dogs: Penny, Gibbs, Maya, Brian, Louie, and Calie, along with the dedicated volunteers, made a special in-store appearance at PetSmart Canoga Park. The meet and greet with shoppers fostered a sense of community and solidarity. PetSmart's Manager Todd Fry showed his support by greeting the therapy dogs with a special "Blacklucy" custom-designed fire engine lunch box filled with PetSmart goodies, a delightful treat for the dogs as they journeyed from station to station spreading love.
Aydiee Vaughn, also a talented recording artist, performed "Jump In" from her debut Album Black Lucy Experience for in-store shoppers. The store manager also took the opportunity to share information about the in-store services at PetSmart, such as PetsHotel, Grooming Salon, Pet Training, and the Banfield Pet Hospital located inside PetSmart.
Everett Anderson, Producer of Filmnkey, was moved by the outpouring of love and community spirit at this event. He joined the PAWS volunteers to visit each fire station and capture these precious moments on video.
In a surprising turn of events, the PAWS Director/Founder was presented with an official City of Los Angeles certificate by Councilmember Bob Blumenfield. This recognition was given for her ongoing service and dedication to the community.
This event served as a reminder of the bravery and sacrifice of our heroes, the LAFD, and the profound impact of 9/11. The therapy dogs and volunteers from PAWS 4 Kisses & Hugs, under the leadership of Aydiee Vaughn Dunson, continue to bring comfort and joy to our community, honoring and remembering our heroes in the most heartwarming way in the month of September.
The event was such a positive success with this year's Paws volunteers, the director, and team started brief talks about planning to take the PAWS to New York City on their 11th year to commemorate and honor those NYFD whose lives were lost at ground zero would be amazing!