NAACP San Pedro-Wilmington Branch
Juneteenth400 CelebrationWeek
The NAACP in San Pedro held a fantastic week of Juneteenth activities for the Harbor communities and the San Pedro Port. NAACP-San Pedro Branch President, Dr. Cheyenne Bryant and former president and Branch Founder, Joe Gatlin, led the activities that brought people together to celebrate what they called Juneteenth 400 a historical American holiday.
On Wednesday, June 14, the San Pedro NAACP took a group of 100 kids and 25 adults to the LA Dodgers Black Heritage Night and watched the LA Dodgers play the Chicago White Sox.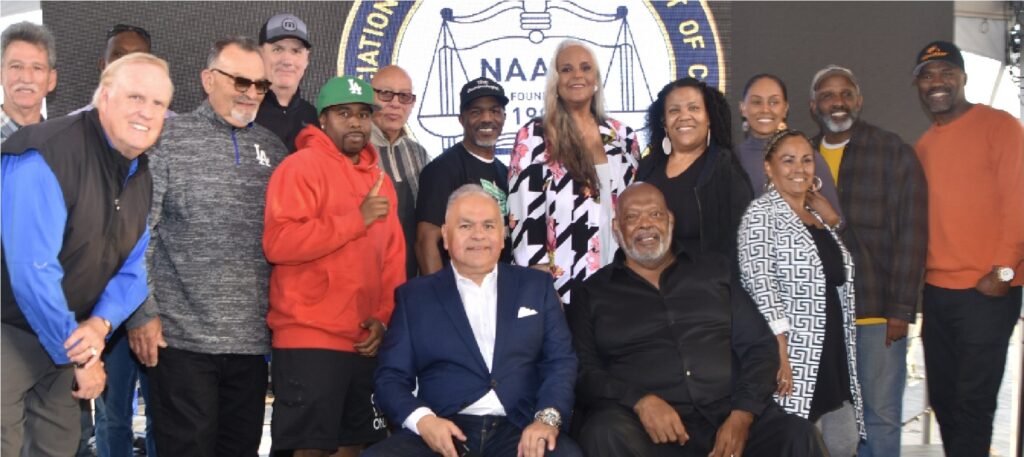 Thursday, June 15th, was the big Bones 4 Bone Marrow Celebrity Domino Tournament on board the USS Iowa. Many celebrities came out to challenge self-proclaimed undisputed domino champ, Joe Gatlin. Many professional sports players and coaches came out to support this great cause. The very special guest celebrity was the beautiful and elegant former actress and sports announcer Jayne Kennedy.
NAACP Juneteenth 400 held the Picnic and Job Fair on Saturday, June 17th at the Wilmington Waterfront Park. The Port of Los Angeles, SA Recycling, the Port of Long Beach, 99cent Store, Work Force Development, and many others sponsored this special day. There was a Family Picnic and Economic Development and Workforce Development Job Fair. This was a full day of positive activities geared toward uplifting the community and providing hope and inspiration. At the end of the day, everyone was treated to a Juneteenth fireworks display over the Pacific Ocean.
The NAACP San Pedro Branch, Dr. Cheyenne Bryant, Joe Gatlin, and their dedicated team members put together an unforgettable Juneteenth 400 and brought together all cultures to give recognition to this very important holiday.