Jubilee Perez: An Emerging Tennis Star
By Ruby Castillo | Photos by Solomon Perez @design_by_solomon
Jubilee Perez is on her way to a great tennis career. She is already a young star competing at a very high level. She is armed with a clear vision and is determined to write her name into tennis history.
With the recent success of the movie King Richard, tennis is winning on and off the court. Like Serena and Venus Williams' father, Richard Williams, Jubilee's father Chuckie Perez is doing everything he can to help her reach the top of the tennis world.
Training on her hometown tennis courts, Jubilee defies the odds with her relentless commitment and fierce intuition. Together with her family, this 14-year-old is destined for excellence.
Born to Play
Born Jubilee Shalom Perez on February 29, 2008 as a leap year baby, you knew she was fated for something unique.
Jubilee showed promise early, which is not surprising as she was born into an athletic family. In a way, she was meant to play some sport. When she was five, she started playing softball while her older brother Solomon practiced tennis. Even though both siblings portrayed top qualities and athletic gifts, Jubilee began hitting tennis balls against the fence for hours.
Solomon's coaches recommend Rosie, her mother, and Chuck, her father, to put her in tennis, and the rest is history. As soon as she entered her new path, everyone noticed that Jubilee was a natural born tennis player.
Taking Notice
After learning the game, Jubilee began winning local tournaments and soon became one of the most promising tennis players in SoCal. At first, she had some setbacks, but this allowed her to build character.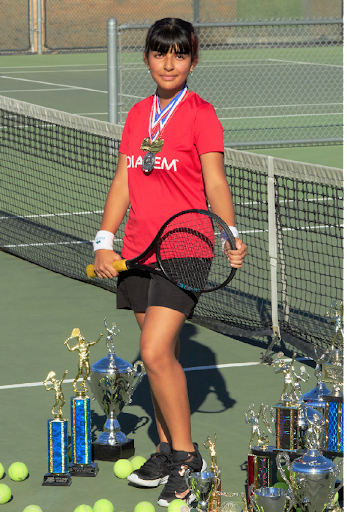 Like her favorite tennis player, Serena Williams, once said: "I really think a champion is defined not by their wins, but how they can recover when they fall." And this is what Jubilee shows both on and off the court. Every defeat makes the victories so much sweeter.
As Jubilee continued to show her "it factor," everyone started asking questions about this happy, terrific little girl who loves to play tennis. Coaches, parents, and other kids were interested in learning more about where, when, and who she played tennis with.
Even Patrick Mouratoglou, Serena Williams' coach, invited her to attend Mouratoglou Tennis Academy, a distinctive honor for Jubilee's promising tennis career.
Now, she is training weekly with a former ATP professional player. But Jubilee's tennis career continues to be a family affair, as her dad coaches and manages her along with her mom. Even Solomon is her leading photographer.
She's on a Roll
Today, Jubilee is 14 years old. She has recently signed her first endorsement deal with Diadem Sports and has several offers from other companies. Her primary goal is to play professional tennis and attend a university on an academic and tennis scholarship.
But Jubilee has bigger goals for 2022 as she is preparing to enter tournaments in Georgia, Florida, and surrounding states. She's anticipating another big push for her ascending tennis career.
As her tennis career continues its successful path, Jubilee still has her priorities in order:
Faith in God
Love of family
Walk with integrity
Always remain humble
Importance of education
Respect for others
We know Jubilee will keep emerging as she is the type of player who will always rise to the occasion