Entrepreneurship Surge for Los Angeles County: EECI Graduates New Entrepreneurs and Certificated Scuba Divers from Diverse Backgrounds
(Top Photo Compton Councilman Jonathan Bowers (rear, far right) and the R&B Singer Michel'le (center) congratulated the EECI Class of 2023. From left, rear, James Black, Keenya Walker, Patrick Tate, Shannon Clay, along with (left, front) EECI Staff Paul Roberts, Ramona Roberts, Tina Neal, Tierrea Hayes and Andre Joseph. Photo: Platinum Star PR)
By Marie Y. Lemelle, MBA
The global landscape of entrepreneurship has undergone a seismic shift since the release of a 2019 study reporting 582 million entrepreneurs worldwide. Fast-forward to 2023, and that number has soared even higher, with a remarkable surge in new business ventures. Riding this wave of innovation, The Entrepreneur Educational Center, Inc. (EECI), a pioneering 501(c)3 nonprofit organization under the leadership of Executive Director Barbara J. Stanton, is proud to present its Class of 2023 – a passionate group of Black and Brown entrepreneurs and certificated scuba divers who are poised to make an
indelible impact on Los Angeles County and beyond.
ENTREPRENEUR PROGRAM
(Alphabetical Order)
ROBERT AVERY
The American Cleanup Project
JAMES BLACK
The Black Family Legacy Center
SHANNON CLAY
SC Athletics
TIERREA HAYES
S.T.E.P.P Housing
ANDRE JOSEPH
Young Gentlemen Foundation
BRIAN MCNEIL
Sankofa Limousine Services
TINA NEAL
Tina's Transitional Haven House
RAMONA ROBERTS
Life Savers Academy
PATRICK TATE
Rib'It Barbeque
KEENYA WALKER
Jesus Walks Resource Center
CERTIFIED DIVERS PROGRAM
(Alphabetical Order)
SYDNEY BENTLEY
DAVID BLAND
SHANNON BRAILEY
CALISKO HERCULES
JANICE HYLLENGREN
MARTIN JOHNSON
KEITH LESLEY
CORBIN DANE PITTS
RACHEL RHEE
BRIAN SANDOVAL
The graduation ceremony, held on Sunday, August 27th, at the L'Cheriyve Studio in Gardena, marked a significant milestone for these aspiring men and women who strive to make a difference. The event was graced with the presence of R&B sensation Michel'le, an accomplished vocalist, entrepreneur, and
songwriter hailing from Los Angeles. The crowd was further captivated by the melodious tunes of multi-talented harpist and vocalist, Harpist Maia. The electrifying sounds of Del Atkins and The LYFE Band, along with the beats spun by DJ Hippie, kept the energy levels soaring throughout the event.
The highlight of the evening, however, was the recognition and celebration of the exceptional graduates from EECI. With a diverse range of ventures spanning from transitional housing and catering services to life-saving emergency response and training, and youth programs, this group of determined
entrepreneurs is primed to redefine success in their communities. Adding a unique twist, some of these graduates are also certificated scuba divers, ready to collaborate on ocean-related projects that help the environment and serve the common good.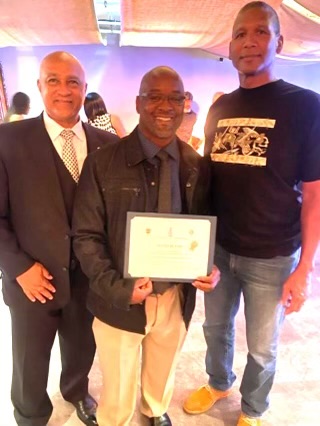 Stanton, the driving force behind EECI, aims to rewrite the narrative of entrepreneurship's diversity. With a mission to empower Black and Brown communities, Stanton seeks to challenge the statistics that reveal a lack of racial representation in the entrepreneurial world by leveling the playing field. While
white entrepreneurs comprise a staggering 84.7% in the United States, only 4.1% are Hispanic, and a mere 4% belong to the Black community. Stanton is unrelenting in her pursuit of equity, with a vision to arm her graduates with the tools and skills necessary to claim their rightful place in the business realm. The stark reality of Black women owning just 2.5% of small businesses fuels her determination to shatter these barriers.
The EECI graduates hail from various walks of life and span ages ranging from 30 to 60, dispelling the notion that entrepreneurship is solely a young person's endeavor. The Miracle's Entrepreneur Program and the Scuba Diving Program, tailored to the specific needs of the Los Angeles County 2nd District, have provided these visionaries with the means to establish both for-profit and nonprofit enterprises. The focal point remains on delivering essential services to underserved Black and Brown communities, particularly in areas like Compton, Inglewood, San Pedro and Watts. A cornerstone of this initiative is the provision of free entrepreneurial and diver training programs to locals, making empowerment accessible to all.
Renowned Dive Master Gerald Durant, a member of the LA City Fire Department, leads the groundbreaking diving program offered by EECI. Operating in city pools, this initiative offers Black and Brown individuals the chance to explore the field of scuba diving, with special emphasis on opportunities within the Port of Los Angeles. The program has garnered added support from AltaSea at the Port of Los Angeles, solidifying its impact and reach.
As Stanton aptly puts it, "EECI's Genesis Diving Program is nothing short of revolutionary. It serves as a dynamic platform for Black and Brown men and women to harness their potential and contribute to the maritime sector's vibrancy, particularly within the bustling Port of Los Angeles." The collaboration with AltaSea further widens the door for community members of all ages to engage with the ocean and grasp the nuances of emerging developments in ocean science, ultimately paving the way for lucrative careers. The achievement of equity in the marketplace stands as a monumental victory that promises brighter prospects for generations to come.
EECI is on a mission to empower individuals from diverse backgrounds, fostering their journey to entrepreneurial success. By providing free comprehensive training, resources, and mentorship, EECI is assisting with the creation of pathways for Black and Brown students into careers that have a lasting positive change within their communities.
For more information about EECI and their programs, please contact EECI at [email protected] or call (323) 757-7506.
_____
Marie Y. Lemelle, MBA is a global media director and owner of Platinum Star Public Relations and Platinum Star Media Group based in Glendale, CA. Find her on IMDB or Instagram @platinumstarpr