Ed Sheeran Teaches Lessons at Dominguez HS
Compton Unified School District
English pop superstar singer and songwriter Ed Sheeran visited Dominguez High School recently to answer student's questions and perform a few of his hit songs in an intimate setting. The appearance was put together by Save The Music as part of the J. Dilla Music Technology Grant, as well as Atlantic Records.
Ed's no stranger to the city of Compton. He explained that about ten years ago, he came to the city and wrote a number of songs with The Game.
Visiting schools is a passion of Sheeran's. "When I'm on tour, I try to go to as many high schools and kids' hospitals as possible," he said. "If you have a day off and you're in a city, it's good to go into a high school. I wish someone had done that at my high school. I wish we had a singer come in and talk to us."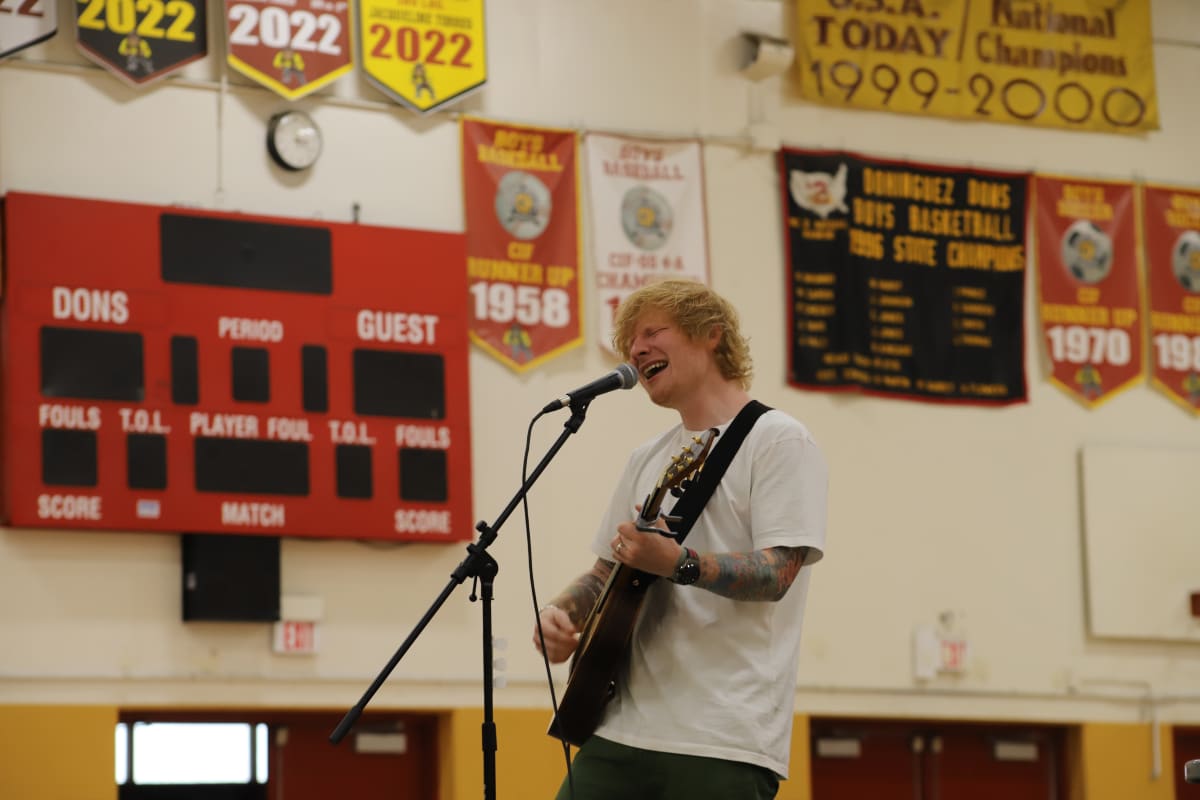 For this visit, school was in session for Ed's question-and-answer period, as he provided several interesting lessons to Dominguez scholars. Here's a sampling of what Ed told the students:
Ed's Lesson 1: Do something you love and work harder at it than anyone else.
"My dad always said, 'Choose to do what you love and make sure you work harder than anyone else at it." And also, never have a Plan B. Only have a Plan A and Plan A has to work," he explained. "My Plan A was just do music and make a living from music. It's gone way better than I expected. At the beginning, I used to play weddings and stuff like that once or twice a week. That was enough to make my living. That got me started."
Once he knew he could make a small living performing, it gave him the ability to make his own music. "I write music because I love making music. I write songs because it makes me feel better. But I release songs because I hope people are going to like them."
"Whatever profession that you go into, just make sure you love it and then it becomes a job. Pick something that you love, and work harder than anyone else. I promise you it will happen. Don't listen to my advice and think it just applies to music. It can apply to any job."
Ed's Lesson 2: Write every day and flush out the bad songs.
Ed talked about the challenges of creating songs and what his process was: "I don't believe in writer's block," he said. "Songwriting is a muscle that you have to continually exercise. When I'm writing a bad song, I have to finish writing that bad song. I see it as like a tap. You start a flow, and if it's an old house, there's going be muddy, crappy water coming out to begin with, and then it's going to start flowing clean. And then you have this rhythm of writing good songs."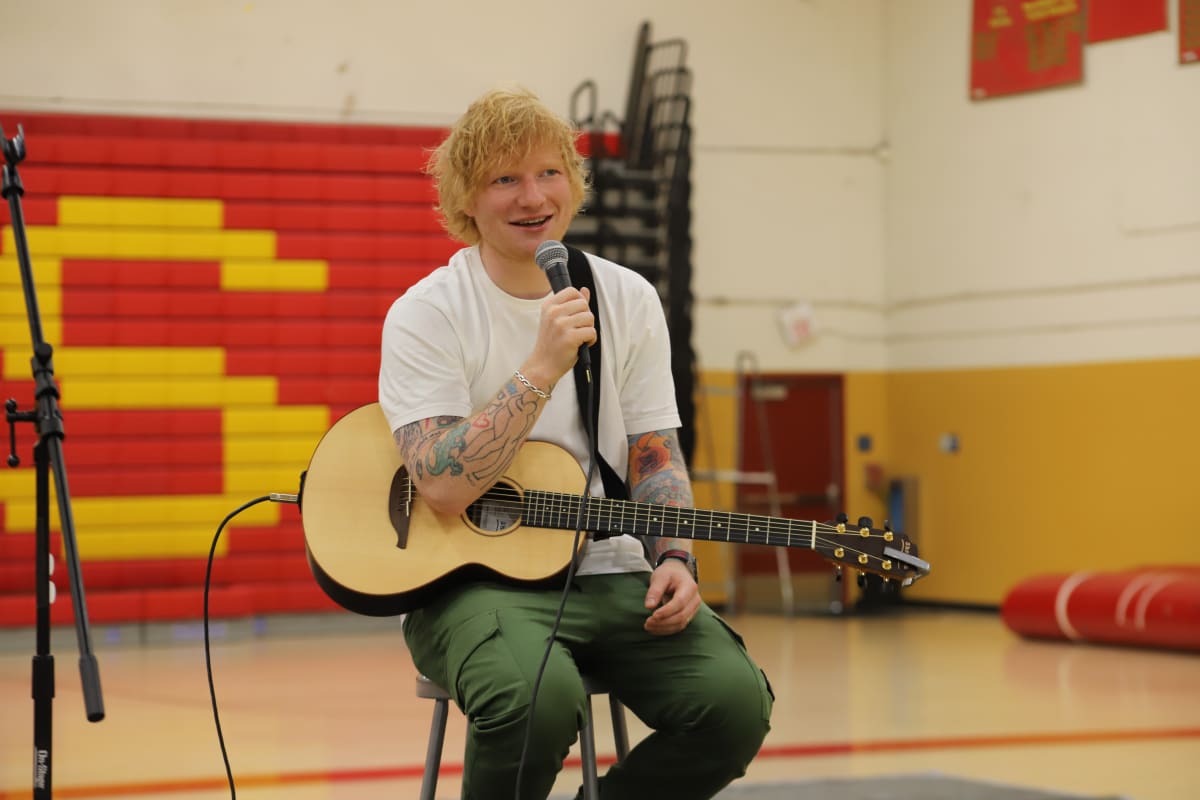 "Every now and then there'll be a bad song that comes up," he continued. "You have to get that out to then get to the next song, otherwise the next song that you write will have a bad fit."
He also keeps a regular schedule to exercise the songwriting muscle. "I'm in the studio five days a week. I go in from 10 a.m. to 5 p.m. every day, and I make sure that I write at least two songs every day. And if I get to the end of the year and I have 12 amazing songs, that's all I need. But some other artists will make nine songs over three years and make sure they're all perfect. I'll write and write and write and won't worry about the bad songs. At the end of the month, I'll look at all the songs I've written and if I have one song that's good, it's worth it."
Ed's Lesson 3: Don't let other people determine your self worth.
Ed talked about not letting other people's opinions determine what you think about yourself. In his profession, he's trying to sell music. But if people don't like his songs, he doesn't let that bother him.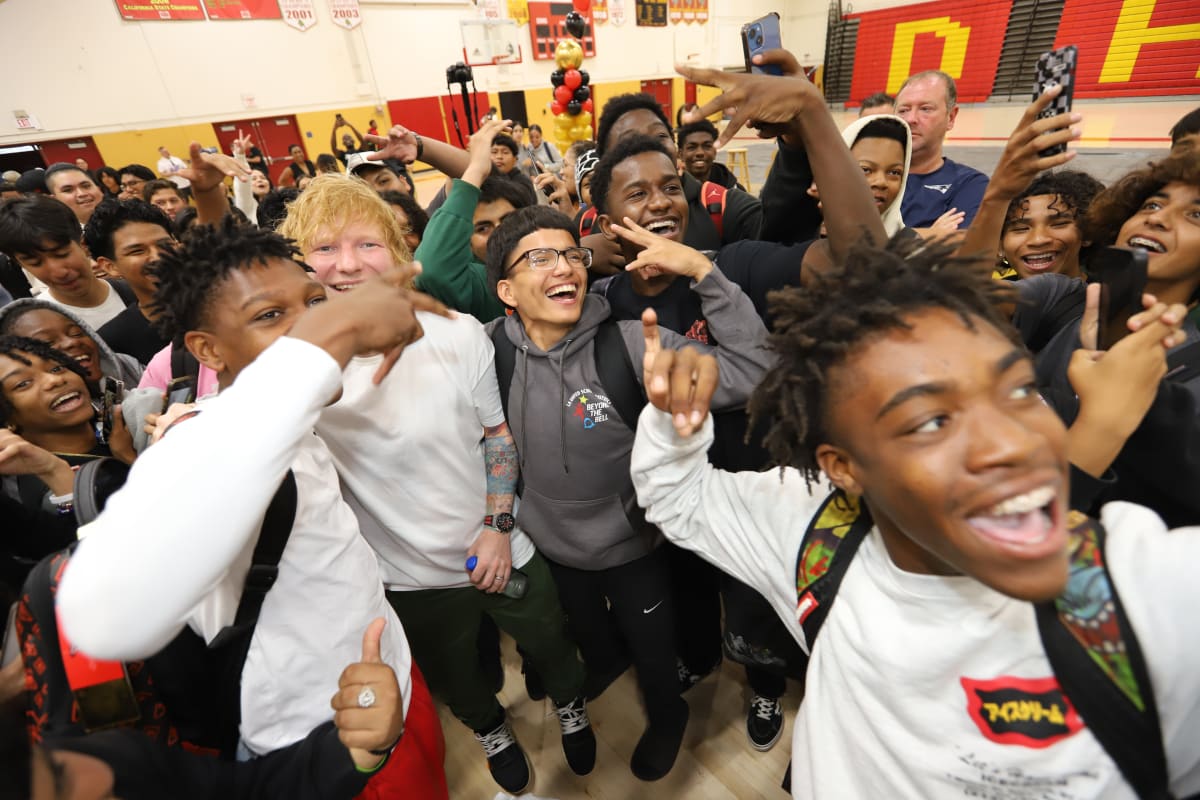 "If you have a song that you love, you put it out there, and people don't like it or listen to it, that can knock your confidence," he said. "But you've always got to remember why you do it. Music has turned into my job, but it's also a hobby. It's really fun to do. It's not like it's a desk job that we wake up every morning and go off to. Music is super fun."
"Always remember that at those times when you have low depths of confidence," he continued. "Go back to the fact that you love doing this. The reason I love doing this is it makes me feel this way. If I like a song and I think it's great, that's all that matters."
After the question-and-answer session, Ed performed several of his hit songs, then stepped off the stage and took selfies with the students, staying until the last one left.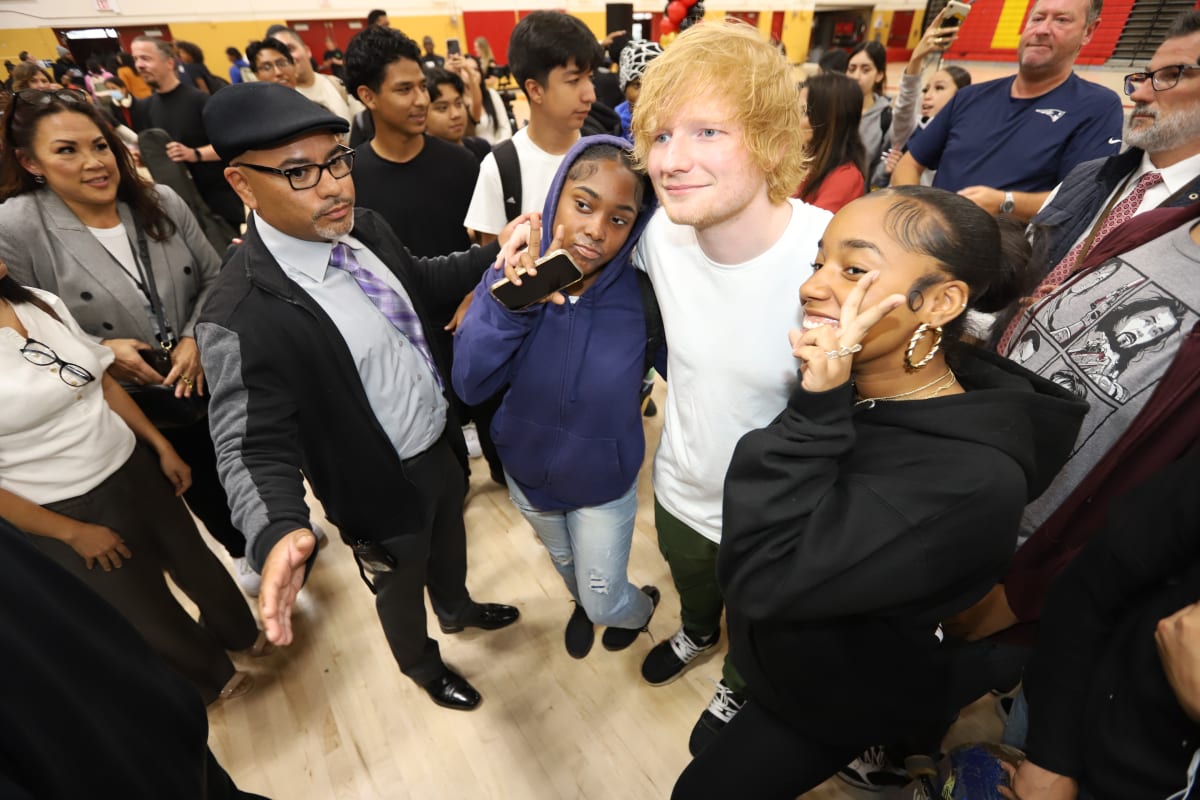 Save The Music's J. Dilla Music Technology Grant, named after the highly respected hip-hop producer J. Dilla, is focused on delivering the future of music learning through innovative tech tools and curriculum. This revolutionary program for public high schools, reflects how music is being made today by bringing integrated 21st century training techniques to local communities and school districts. The goal is to bring out students' inner creativity, talent, and confidence by teaching them the fundamentals of electronic music creation, recording, and production.