Compton Firefighters Fight City Hall: Compton Mayor Offers No Help for First Responders
The men and women of the Compton Fire Department and LAFF Local 2216 launched a peaceful protest in front of Compton City Hall on Tuesday after Labor Day. They came with pickets and sirens to alert the community of the dangerous situation the city is in. 
Over the last several years the services and funding of the Compton Fire Department have been severely cut. In a time when most cities are lifting up their first- responders, Compton Firefighters are forced to go to the streets and cry out about not having a union contract and the horrible working conditions they face each day.
When almost every city in the country is lifting their first responders up, the City of Compton is letting theirs down. Apparently, the Mayor, the City Council, and the City Managers have severely cut fire department funding over the last several years. Compton Firefighter Local 2216 has been working without a labor contract.
The men and women of the Compton Fire Department have dedicated their lives to proudly serving the citizens of Compton. They have taken an oath to protect lives and property to the best of their ability every single day.
The Compton Fire Department is a professional organization that provides emergency medical service, fire protection, and fire prevention services to the City of Compton since they were established in 1901. They are the 5th oldest fire department in Southern California and one of the busiest in Los Angeles County.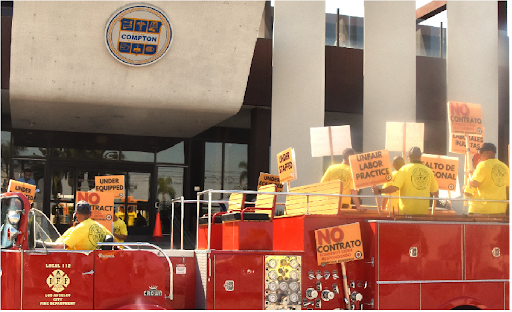 Presently the Compton Fire Department has 56 sworn personnel with a daily staffing of 22 Firefighters, who protect a population of over 100,000. They respond to house and apartment fires, major commercial fires, gas leaks, hazardous material spills, specialized rescue, and wildland fires along with traumatic injuries from major emergencies such as auto accidents, gunshot wounds, stabbings, and falls, just to name a few.
The Department average response time is faster than the national average and faster than the nearby cities served by the Los Angeles County Fire Department.
Dozens of Firefighters, their family members and concerned citizens joined in the protest in front of City Hall. The Compton Firefighters are looking for more support from the citizens to ensure that the Mayor does the right thing and initiates a contract, proper funding, better equipment, more staffing, and restored fire stations. Firefighter Tony Chavez, a 19-year veteran stated. "The Fire Department shows up for the citizens and the citizens need to show up for them. The citizens need to demand better conditions for our Fire Department." Compton Firefighter and citizen went before the City Council and spoke at the Public Forum but there has still been no response from the City of Compton.
For more information contact the Compton Firefighters IAFF Local 2216 President Daniel Salazar (310) 749-3921